Roofing in Red Bank, New Jersey
Keystone Roofing & Siding LLC has been offering high-quality, reliable roofing services for more than a decade in Red Bank, NJ.
If you're looking for an effective roofing installation with us in Red Bank, our skilled Red Bank roofers do the task correctly, while maintaining our dedication to quality standards and satisfaction of our customers. Keystone Roofing & Siding LLC Keystone Roofing & Siding LLC are the experts in Red Bank roofing expertise and the reliability you've been searching for.
We offer professional and affordable commercial and residential roofs Red Bank, NJ residents require. Contact us today to discuss what we can do to help you with the roofing needs of your Red Bank roofing project!
There are a variety of roofing materials in the market today including tiles, shingles metal, wood bitumen modified and slate, to name just several. Keystone Roofing & Siding LLC has a track record of providing superior roofing solutions using the various roofing materials. Let our knowledgeable Red Bank roofers help you to determine the most suitable solution for your roofing requirements and requirements.
If you require roofing repairs Red Bank do not be afraid to contact Keystone Roofing & Siding LLC! If you're experiencing leaks on your roof, curly or missing shingles, cracking tile, Keystone Roofing & Siding LLC will assist you with these roof problems too. We are the most trusted source to repair roofs within Red Bank. You can rest assured you'll get your Red Bank roofing repairs will be completed swiftly and accurately by Keystone Roofing & Siding LLC.
Since its beginning, Keystone Roofing & Siding LLC has provided homeowners with the best roofing service throughout Red Bank, NJ. We can help you extend the lifespan the life of the Red Bank roof! You can trust Keystone Roofing &Siding LLC's roofing contractors located in Red Bank are as courteous as they are skilled.
Reach out to Keystone Roofing & Siding LLC for more information about your roofing project located in Red Bank, New Jersey. We are your Red Bank roofers will be delighted to provide you with an affordable roofing estimate and will stand behind the exceptional Red Bank roofing service that we offer.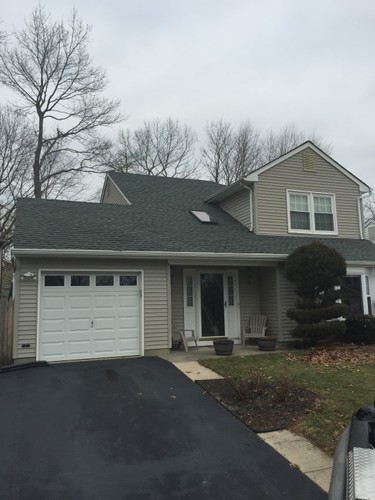 1. Get a free inspection & estimate
We inspect your home to recommend if you need a full repair or a replacement.
2. We install your new roof and/or siding
Our knowledgeable and experienced team will install your new roof or siding
3. You sleep better at night
Sleep soundly at night know you're roof is secure and your home looks great