Roofing in Holmdel, New Jersey
Keystone Roofing & Siding LLC has been offering top-quality roofing that is reliable and detail focused for more than a decade in Holmdel, NJ.
If you want an effective roof installation in Holmdel our experienced Holmdel roofing contractors do the job correctly, while adhering to quality and customer satisfaction. Keystone Roofing & Siding LLC are the experts with the Holmdel roofing experience and reliability you've been searching for.
We provide the expert and affordable commercial and residential roofs that Holmdel, NJ residents demand. Call us now to discuss what we can do to help you to complete your Holmdel roofing needs!
There are numerous types of roofing materials that are available in the market today such as tiles, Shingles wood, metal, asphalt, modified bitumen and slate to mention several. Keystone Roofing & Siding LLC has a long-standing track record of in delivering top-quality roofs with the various roofing materials. Our experienced Holmdel roofers help you choose the most appropriate solution to your roofing requirements and needs.
If you require roof repairs in Holmdel do not hesitate to contact Keystone Roofing & Siding LLC! No matter if you're suffering from a leaky roof, curly or missing shingles, or cracked tile, Keystone Roofing & Siding LLC will assist you with the roof issues as well. We are the reliable source to repair roofs in Holmdel. You can rest assured that your Holmdel roof repairs will be completed swiftly and efficiently through Keystone Roofing & Siding LLC.
For many years, Keystone Roofing & Siding LLC has been providing homeowners with top-quality roofing services for their homes in Holmdel, NJ. We'll help extend the lifespan of your Holmdel roofing! You can trust Keystone Roofing &Siding LLC's roofing contractors located in Holmdel are as polite as they are competent.
Get in touch with Keystone Roofing & Siding LLC to discuss your roofing needs within Holmdel, New Jersey. Our Holmdel roofing specialists will be pleased to give you an affordable roofing estimate and will stand behind the exceptional Holmdel roofing service we offer.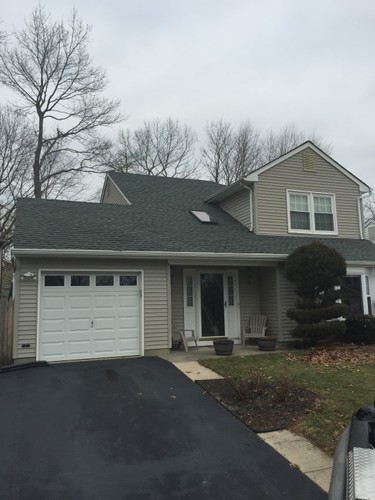 1. Get a free inspection & estimate
We inspect your home to recommend if you need a full repair or a replacement.
2. We install your new roof and/or siding
Our knowledgeable and experienced team will install your new roof or siding
3. You sleep better at night
Sleep soundly at night know you're roof is secure and your home looks great