24 Hour Emergency Roofing in Trenton, New Jersey
Are you located in the Trenton area? Are you experiencing leaks in your roof? If your roof is actively leaky now, don't wait and be at risk of the roof being damaged again as well as the rest of your home. Keystone Roofing & Siding LLC offers emergency roofing services 24/7, seven days a week. If you are experiencing severe weather conditions in Trenton emergency roofing might be necessary. Our team will assist you in covering the roof using tarps till they are able to address the issue. If the sun shines with the temperatures pleasant our team will be back to evaluate the severity of the damage. They will guide you through the process of fixing your roofing located in Trenton, New Jersey.
Quick Trenton Roof Leak Repairs
Not all emergency roofing companies in Trenton are created equal. Rapid service doesn't necessarily mean poor quality service. Contact Keystone Roofing & Siding LLC to get immediate (yet excellent quality) emergency assistance. The most important thing to do after you've experienced damages to your roofing is stop the rain and water in order to limit the harm on your property. If a roof leak is not protected with a waterproof tarp as quickly as it is possible, water may enter your home and soak into the flooring and walls.
The water damage that follows could result in costly repairs. Make a call to Keystone Roofing & Siding LLC immediately in the event that your roof is damaged. Call us at (732) 201-3542. The Trenton Emergency roofing crew will be on site quickly to repair the damage and provide an emergency tarp until repair can be completed.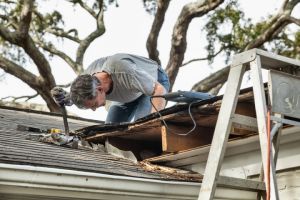 Emergency Roof Repair in Trenton
When the roofing issue has been evaluated, Keystone Roofing & Siding LLC will visit your home to fix your roof. If you're planning to file an insurance claim for your homeowner's and business owners insurance we can assist you in that as well. Every aspect of your roofing repair will be taken care of in a professional manner and with diligence. The colors and textures of roofing shingles will be aligned with existing tiles. Seams and seams will be concealed as we complete the repair of any Trenton roofing damage.
The result is that no person will be able to tell the roof has been damaged. Keystone Roofing & Siding LLC has been providing emergency roofing fixes within Trenton in 2012. Contact us today for a consultation toll-free at (732) 201-3542 to repair your roof. You'll find out why we've become the most trusted local choice.
1. Get a free inspection & estimate
We inspect your home to recommend if you need a full repair or a replacement.
2. We install your new roof and/or siding
Our knowledgeable and experienced team will install your new roof or siding
3. You sleep better at night
Sleep soundly at night know you're roof is secure and your home looks great